I very recently stumbled across the lovely feminine, vintage-inspired blog by Kellie Falconer, called
'Accordion to Kellie'
. I really enjoyed it. I've been very busy with my Uni studies and assignments lately and I haven't really had much time or energy left for blogging in general. However, I'm having a very, very short break this week before starting a new term next week and I've decided to use the opportunity to join in
Accordion to Kellie's 'The literary Heroine Blog Party'
. The Party is supposed to have ended yesterday (February 28th), so I'm a bit late, but I thought I'd do it anyway because it looks quite fun!
*******************************
So here are the questions:
1. Introduce yourself! Divulge your life's vision, likes, dislikes, aspirations, or something completely random!
Hi! I'm Sarah and I live in beautiful, sunny Queensland, Australia. I'm a homeschool grad and I'm currently a history undergraduate student (in my last year!) who just LOVES history!
I've always found it difficult to pin-point exactly which historical period is the most favourite period for me. It can change from time to time, depending on what grabs my attention. Though, I think I would say it's Early-Modern British history.
I also love historical and fiction/fantasy literature, especially those with the element of the 'legendary' about them, such as Tolkien's books (with The Lord of the Rings being my favourite!), and Viking Sagas and Arthurian legends (I haven't gotten much into these yet, but they're on my list of aspirations!!). I also like good 19th century classic novels, of course! I must also mention that the great bulk of my reading has always been non-fiction biographies. These, to me, are just as pleasurable as novels and greatly inspiring, since they really actually happened in space, time, and history! I know! That's the historian in me, I guess!
I can describe myself as quite intellectual. I love to think and brood over things and ideas. However, I've also got a very 'intellectualised' practical side. That is, I approach practical things in general in a very systematic, intellectual, perfectionist sort of way! This practical side can show itself in loving beauty and design. I love craft and art that require intricate and delicate work, like Calligraphy (when I do have the time), dollhouse decorating, web-designing (still learning), interior design, sewing and Polyvore! I also love music. I mainly sing, but I do play the guitar, too!
Some aspirations of mine for the future include, for example, being able to travel someday and visit the historical places around the world that I read about so much, and being able to practically use my love for history in a variety of ways that would inspire others to love history and see God's hand in it (still praying to see how that will work out!). However, o
ne of my aspirations or dreams for the near future, as I'm sure is with most university book-loving students, is to get the time to do more 'pleasure' reading, rather than just the 'required' university readings and find time to be more creative!
However, my most deepest prayer and aspiration is to draw closer to my Lord Jesus, and love and serve Him more sincerely and wholeheartedly. I want my will to be united with His in everything I aspire or do.
2. What, to you, forms the essence of a true heroine?
For me, what makes a true heroine is Godliness, virtue, meekness and humility, quietness of spirit, courage, kindness, self-control, honesty, faithfulness, and loyalty.
3. Share (up to) four heroines of literature that you most admire and relate to.
Jane Eyre
via Pinterest
I love Jane Eyre. I admire her courage and kindness, but most especially her godly and principled life. I love how she trusted in God and remained faithful to her convictions and principles in spite of the struggles, disappointments, and temptations she encountered throughout her life. I love how deeply she loved Mr. Rochester and how it endured even after his misfortune and disfigurement. She was eventually rewarded for her faithfulness and love by having a happy home with the man who truly loved her.
Lady Helen visiting Sir William Wallace in prison.
via electricscotland.com
I also love Lady Helen, Lord Mar's daughter, in The Scottish Chiefs by Jane Porter. I love her godliness, purity, virtue, courage, loyalty and love. Her story is so moving and tragic. I love the way in which she, in all virtue and purity, loved Wallace and was willing to sacrifice herself for his sake. She was small and looked weak, but really she was full of courage and inner strength. A true heroine and lady indeed!
Margaret Hale
via Pinterest
Margaret Hale in North and South by Elizabeth Gaskell is also one of my favourite literary heroines. I admire her personality, courage, her sense of principle, loyalty, and concern and advocation for the weak and the poor. I admire the way she carried her self and faced life, trusting God, especially during the trying and tragic times of her life. I especially love the way she was able to bring out the buried gentleness and goodness within Mr. Thornton. I think that's what a true heroine and truly virtuous woman does.
Eowyn
via Pinterest
Eowyn
, the shield-maiden of Rohan, in Tolkien's
The Lord of the Rings
, is another of my favourite heroines. I admire her courage, fearlessness, inner strength, and loyalty. One of the really special things that I also appreciate about her is her journey of reaching contentment within herself and not seeking glorious deeds just for sake of escaping the apparently hopeless situation she was in. Sometimes, we can think there is no hope, when the light is just about to break!
Peggy Bell
via Pinterest
*I can't resist the temptation of adding just one more heroine that I really admire. That is
Peggy Bell
from Return to Cranford (BBC TV series), based on novellas by Elizabeth Gaskell. I really love Peggy's sweet and tender nature, coupled with her maturity, courage. loyalty, and sacrifice in the midst of many obstacles and setbacks, especially with regards to her wayward and selfish brother and the opposition of family to her engagement to William Buxton. Her charm and character won the admiration of all those around her.
4. Five of your favourite historical novels?
- The Scottish Chiefs, by Jane Porter
-
North and South,
by Elizabeth Gaskell
-
Jane Eyre,
Charlotte Bronte
- The Acts of Faith series, by Jannette Oak and Davis Bunn
-
A Tale of Two Cities,
by Charles Dickens
*for a bonus extra: The Martyr of the Catacombs, by James DeMille
5. Out of those five books who is your favourite major character and why?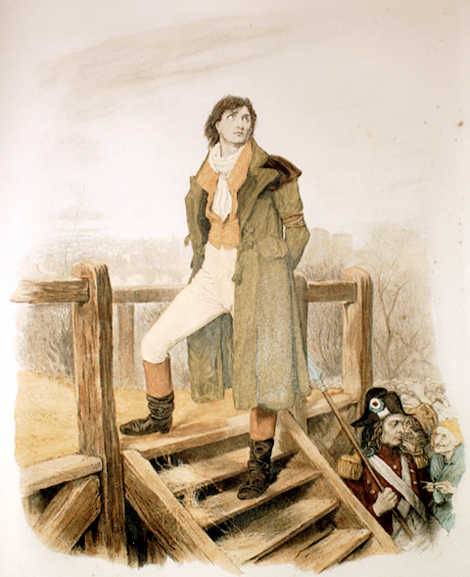 Frederick Barnard's Sydney Carton
Since I've already mentioned some of my favourite female major characters and why they're so in a previous question, I think I'll choose a hero this time. It is also a hard choice, I must say! I, though, think I would choose Sydney Carton from
A Tale of Two Cities
. He is not a perfect character, certainly. However, one just pities his weakness and admires his love and sacrifice. I also love how the exchange plot. It's so reminiscent to what Christ did for us, except He was a perfect sacrifice.
6. Out of those five books who is your favourite secondary character and why?
Frederick Barnard's Miss Pross confronting Madame Defarge
I think for this one I would choose Miss Pross also from
A Tale of Two Cities
. She's is just such a fun character and very interesting. I must say she was an excellent chaperone! I also admire the way she fought off Madam Defarge!
Love this quote:
(p. 169)
7. If you were to plan out your dream vacation, where would you travel to – and what would you plan to do there?
If I planned out my dream vacation, it would most probably last a year or two!! Here are some of the places I'd love to visit someday:
- Canberra, Federal Capital City of Australia. I can't believe I haven't visited it yet!! I'd like to visit above all things:
National Museum of Australia
National Library of Australia
- I'd love to visit other Australian states, including Tasmania and Victoria.
- I'd love to visit the Australian Alps
- I'd love to visit New Zealand and see all the places where the Lord of the Rings and Hobbit movies were filmed!
- I'd love to visit Europe and visit all the beautiful and historical places...I'd especially love to see Switzerland and Austria!
- I'd love to visit the UK - all regions and all historical places!!!!
I could say much more...but I think I might bore you...
8. What is your favourite time period and culture to read about?
I guess it would be 19th or early 20th century Britain or Early-Modern England.
9. You have been invited to perform at the local charity concert. Singing, comedy, recitation – what is your act comprised of?
I would definitely sing, perhaps also, if I practice well enough, play the guitar. Depending on what the concert is for and who's in the audience, I would sing inspirational Christian songs, good folky music, good traditional pop songs, songs from movies or musicals, and/or classical Church songs (Gregorian, Latin, celtic style).
10. If you were to attend a party where each guest was to portray a heroine of literature, who would you select to represent?
I think I would choose any of these: Margaret Hale, Elinor Dashwood, Emma Woodhouse, or Eowyn. I love Victorian, Regency, and Medieval costumes very much.
11. What are your sentiments on the subject of chocolate?
Mmmm...Chocolate! I love chocolate. I personally prefer dark, bitter chocolate best (sometimes with some flavour like mint or orange). I also love chocolate biscuits or cookies, and nice hot chocolate drinks!
12. Favourite author(s)?
- John and Elizabeth Sherrill
- Jannette Oak and Davis Bunn
These are just a sample...I honestly can't remember the others at present...
13. Besides essentials, what would you take on a visiting voyage to a foreign land?
I would definitely take my iPad with me. This way I would take my music, my videos, the internet and, of course, my books all in one gadget! Nice, isn't it? Of course, I would take a camera as well.
14. In which century were most of the books you read written?
I think most of them were written in the 19th or early 20th centuries.
15. In your opinion, the ultimate hero in literature is…
some literary heroes I consider fitting the title of 'ultimate' hero:
Top (left to right): Sir William Wallace, Mr. Knightley, Theoden King, Mr. Thornton
Bottom (left to right): Aragorn, Mr. William Buxton, Faramir, Samwise Gamgee
Wow! That is a very hard choice! In my opinion the ultimate hero in literature is the one who is a good and honourable gentleman, with strong character and principles and also having a gentle, kind, and
magnanimous heart. He is also brave and strong and defends the small, weak and poor.
I think Mr. Knightly definitely fits into that category. Mr. William Buxton was also such a hero. I was really moved by the sacrifice he made because of his love for Peggy Bell. Sir William Wallace is also that kind of hero. In the Lord of the Rings I would choose Aragorn, Faramir, Theoden King, and Samwise Gamgee. I would also choose Mr. Thornton. Though not one in the beginning, perhaps, he certainly develops into one as time progresses.
16. Describe your ideal dwelling place.
I think I've got two main images of an ideal dwelling place for me. The first one is ideal for a cooler climate. It would be an English-style, cottage-like dwelling, nice and cosy, warm and snug. It would have a small garden with lots of beautiful flowers and a nice pathway. It would have wood floors, plenty of bookshelves of books, a nice study with a cosy fireplace, reading nooks, and have lots of antique furniture. In other words, a home like Bilbo's home in Bag-End!
The second image of an ideal dwelling place for me would be a white-washed, seaside-style house with a blue roof, blue-framed windows and blue doors. with flower-boxes. The interior would still be cosy and homey, but brighter. It would be also white and blue themed. It would include large windows with window seats, reading nooks and plenty of storage, and bookshelves. This kind of home would be ideal in a warmer climate...perfect for Queensland!
17.
Sum up your fashion style in a short sentence.
Simple elegance, feminine, classy classic-modern European-style look, modest, warm or brighter colours.
(If your interested to find out more see my Polyvore Profile)
18. Have you ever wanted to change a character's name?
No, I don't recall every wanting to do that. There was a certain time when I thought I would have liked to be named something else, but now I wouldn't change my name for anything, except perhaps getting a middle name which, by the way, I don't have!
19. In your opinion, the most dastardly villain of all literature is…
Yes, that is another tricky one...I think I would choose Madam Defarge in A Tale of Two Cities for her cold-hearted, ruthless revenge, or perhaps, Mr. Heathcliff in Wuthering Heights for his disturbing, sadistic passion for Cathy! There are others, I know, but I just can't remember them right now...I sort of blot them out of my head more easily than heroes or heroines, I guess.
20. Three favourite Non-fiction books?
Actually, I don't think I could really limit it to just three...
- Selected to Live by Johanna Ruth Dobshciner (That's truly my favourite at present...a beautiful, captivating autobiography of a Jewish young lady during WWII in Holland, telling how she survived the Holocaust and her journey to faith in Christ).
- L'Abri by Edith Schaeffer
- Deliver Us From Evil by Ravi Zacharias
- The Grand Weaver by Ravi Zacharias
- The Hidden Art of Homemaking: Creative Ideas for Enriching Everyday Life by Edith Schaeffer
21. Your duties met for the day, how would you choose to spend a carefree summer afternoon?
I would pick up a nice book to read, or watch a good movie with my sisters while doing needlework, perhaps, or blog, or create a nice Polyvore set!
22. Create a verbal sketch of your dream hat – in such a way as will best portray your true character.
My dream hat! I don't normally wear hats, but I do love woollen felt berets for winter. For special occasions I'd like to have a nice, small fascinator/cap that would have a small net and a nice floral arrangement, all matching a nice dress.
23. Share the most significant event(s) that have marked your life in the past year.
Well, I think the most significant event that marked my life in the past year would be my very first visit to the United States. I really enjoyed my time in Chicago and I was greatly blessed in a lovely Christian Conference in Wheaton College, where I made new friends and enjoyed lovely spiritual instruction and fellowship. I also got to visit the Wade Centre where I saw the actual desks of Tolkien and Lewis, and got to see Lewis's wardrobe that inspired The Lion, the Witch, and the Wardrobe!
24. Share the Bible passage(s) that have been most inspiring to you recently.
"To everything there is a season; a time for every purpose under heaven."
"For the Scripture says, 'Whoever believes on Him will not be put to shame [or disappointed, as in other versions].'"
"For I know the thoughts that I think towards you, says the LORD, thoughts of peace and not of evil, to give you a future and a hope."
*******************************************